Your dollars spent locally stay in the community, help keep people employed,
and help to grow other businesses and our region's tax base.
Shop in-person in the Rushford Peterson Valley
or buy gifts, groceries, and more online at rpvalley.mainstreettome.com, a centralized place to shop locally online.
Many local business offer gift cards.
Or purchase Valley Doe from the Chamber. Valley Doe works just like a check, but the amount is pre-printed and can be used at nearly 100 local businesses.
What can I buy locally?
Women's clothing and accessories
Jewelry
R-P Schoool fan gear
Flowers and plants
Seasonal décor
Unique, handmade décor
Art
Handcrafted furniture
Handmade writing instruments and other wood an acrylic items
Metal décor and signs
Handcrafted baskets
Pottery
Pet food, treats, toys, leashes and more
Lawn and garden and recreational vehicles
Children's toys and games
Books for all ages
Auto parts and equipment, oil changes, new tires, and maintenance
Gas cards
Hair care, skin care and make-up
Family photography sessions
Wine, seasonal liqueurs, beer or liquor
Christmas trees  
Food is always a popular gift!
Give a meal at a local restaurant
Cheeses, gelato and honey from Metz's Hart-land Creamery
Angus beef from Heiden Century Farms
Organic fruits and vegetables with Featherstone Farms' CSA (Community Supported Agriculture) subscriptions delivered across the Twin Cities, Rochester, La Crosse, and Winona
Locally produced meat, dairy products, and vegetables from Uncle Don's Market
Lefse and other Scandinavian treats from Norsland Lefse
Your Hometown Market, Rushford Foods, has everything your family needs – buy a gift basket or a gift card.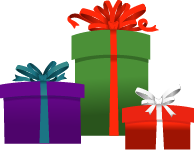 Whether for a get-away weekend or an invitation for family and friends from out of town to visit you, surprise them with a gift certificate to a local lodging establishment.
Need more ideas?
For sports enthusiasts, buy a membership or prepay for a few rounds at Ferndale Golf Course (clothing and accessories also available).
A Hardwood Country Sportsmen's Club membership gives access to the club's rifle range, trap shooting range and archery range.
Nordic Lanes is the perfect gift for bowlers or for a fun night out.
Give the gift of fitness with the Mill Street Fitness membership.
Be ready for next summer with a Rushford Aquatic Center family membership.
Get rid of aches and pains with a chiropractic treatment or massage.
Everyone appreciates a clean car with a D&D Carwash gift certificate.
Prepay Acentek internet, voice or cable service. Prepay an electric bill at MiEnergy or a city utility bill.
Open a college fund or vacation fun at Merchants Bank or Rushford State Bank for your children or grandchildren.
Know someone who doesn't really need anything? Help them support their favorite charitable or community organization with a donation in their name.
Shopping local and spending Valley Doe supports our businesses, the people they employ, and the many community, educational, and charitable organizations that rely on their support. Purchase your gifts and gift certificates from local businesses and watch the happy dances begin! 
More Reasons to Buy Local
Create more local jobs. Enhance the diversity of products and services. Get access to local expertise and business-friendly policies. Boost environmental sustainability by reducing transportation costs, creating a relationship-based economy whereby restaurants work together to create demand for local ingredients, and consumers and small-business owners know each other. Local business owners tend to be more civic-minded by sponsoring local sports teams, volunteering, and supporting local charities. Increase real estate values. Neighborhoods served by small businesses see home values increase 50 percent on average, which attracts new residents and retains residents, which supports infrastructure such as schools, roads, libraries and parks. It's hard to overestimate the positive impacts of shopping locally all year long. (Excerpts from a 2017 Forbes article)